法国interscience Scan 1200自动菌落计数器适应与实验室里所有的媒介,使用舒适,精率高。
法国interscience Scan 1200自动菌落计数器产品简介:
Scan® 1200 高分辨率全自动彩色菌落计数器,适应与实验室里所有的媒介,使用舒适,精率高。具有良好的重现性,自动保存图像和数据结果。
法国interscience Scan 1200自动菌落计数器主要特点:
1. HIGH RESOLUTION & 高性能
很小菌落的大小 : 0.05毫米
在1秒内能够检测到1000个菌落
活动目标影像 (数字变焦 x28)
在5分钟内可接种30个培养皿(在预先调整的情况下)
Fully automatic lighting: lights controlled by computer and motorized background color
2. 可计数类型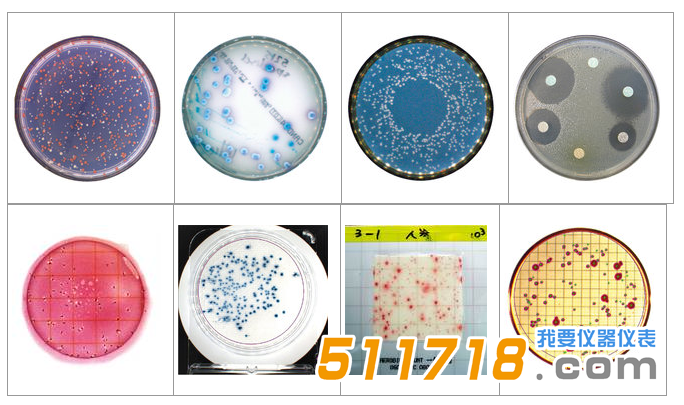 3. SOFTWARE EFFICIENCY
所有功能只需一个窗口
自动调整亮度及对比度
Automatic corrections of the agar defects
自动分离融合的菌落
计数网格自动取消
每一个菌落都会用叉号标记
多边形排除区域
Pre-set medias: PCA/TSA, MRS, VRBL, TBX, TSC, Baird Parker, GVPC, L.Mono, YM
4. INHIBITION ZONE, AGAR WELL
Rapid detection: up to 8 antibiotic sensitivities in 1 click
Inhibition zones and agar wells can be manually added or deleted
Built-in antibiotic database (CA-SFM, French Society of Microbiology)
Precision of inhibition zone measurement: 0.3 mm
Precision of agar well measurement: 0.3 mm
Reads on: Muller Hinton agar, blood agar, chocolate agar
5. FULL TRACEABILITY
Harmonization of the results within a team
Automatic archiving and printing of data: pictures, comments & results
External traceability (Session saved, Excel™, PDF, JPEG, BMP, Scan® printed report)
Internal traceability (Barcode, file archive, LIMS connection)
Securization of the sessions (Compliance with CFR 21 part 11: system securization, operational controls and documentation management)
6. EXCELLENT REPRODUCIBILITY AND REPEATABILITY
GLP (Good laboratory Practice)
CFR 21 Part 11
Scan® SOFTWARE
Scan® automatic colony counters use an exclusive software developped by INTERSCIENCE: evolutive, user-friendly and powerful.
There are numerous advantages in using Scan® counting software:
Only one clic to count
Only one setting cursor
Traceability: automatic saving of data, Excel™ export
To try the demo version with your samples, please identify below or register here
下载Scan试验版软件。
1. VISUALISATION WINDOW
Detected colonies are highlighted and marked with a cross.
2. PARAMETERS WINDOW
Only one cursor to optimize counting. customizable settings adaptable to any kind of agar.
3. RESULTS WINDOW
All previously recorded data can be checked anytime.
EASY DATA EXPORT:
Scan® software provides easy ways to export quickly your results:
Work sessions saving
PDF export
JPEG, BMP export
Results exported to Excel™
Scan® printed report
EXAMPLE OF A SCAN® PRINTED REPORT:
Check in a glance images before and after counting, complete sample information, comments and results.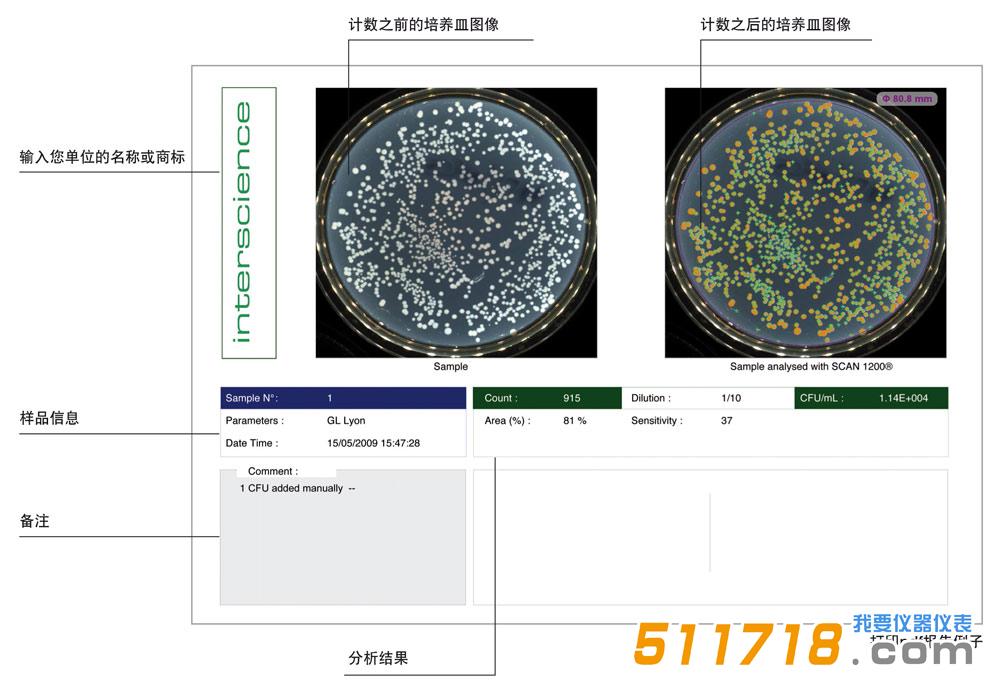 法国interscience Scan 1200自动菌落计数器技术参数:
Technical specifications of the model.
Scroll down for the comparison with other models of the range.


Scan

®

1200

Reference

437 000

Camera

HD CCD color camera

Lens

HD japanese lens

Digital zoom

x 28

Resolution

1,2 megapixels

Counting time

1000 colonies per second

Minimum size colony

0.05 mm

Lighting

Long-life white LEDs / Dark Field

Lighting system

Automatic: 6 combinations, top and/or bottom light white or black background

Counting

Automatic, with manual control

Counting on Petri dishes

55-90 mm

Counting on pour, surface, Spiral

®

and circle plated dishes

Counting on chromogenic dishes

Inhibition zone reader

Inhibition zone measurement accuracy

0.3 mm

Counting on PetriFilm™

Counting on RIDA™ Count or NeoFilm™

Counting on Compact Dry™

Counting on filtration membranes

Automatic detection of paper disks, agar wells, peni-cylinders

Results /Data export

Recountable Scan

®

session, PDF report, JPEG, PNG, BMP, Excel™

Color detection

7 colors on the same dish

LIMS/SIL connection

USB connection

Languages

English, French, Japanese, Chinese, Russian, Spanish, German

Dimensions (w x d x h)

28,5 x 26,5 x 37,5 cm

Weight

9,4 kg

Voltage

100-240 V ∼ 50/60 Hz

Power

20 W

Processor

Intel (recommended) AMD Phenom or better

Operating systems

Windows™ 7 Service Pack 1 or Windows™ 8 or 10

Frequency

2 Ghz or superior

RAM

3 Go or better

Graphic card

AMD or NVIDIA (chipsets are not recommended)

Equipment

USB 2.0 port / CD-ROM reader

Screen

1280 X 1024 pixels and more

Computer

Desktop computer recommended

Hardware

Stainless steel

Software update (after registration)

3 years

Guarantee (after registration)

3 years

In compliance with

GLP (Good laboratory Practice), CFR 21 part 11, ISO 15189, ISO 7218, ISO 4833-2, NF V08-034, NF V08-100, AOAC 977.27, FDA-BAM standards
Delivered with : Scan® software CD-ROM/ Connection cables / 3 control dishes / User's manual / IQ/OQ/PQ